Nothing beats the magic of time spent between parent and child, and perhaps no time is more magical than Christmas. Presented in gentle rhymes and illustrations as warm and glowing as a winter's fire, here is one such Christmas. Maryann Cusimano Love and Satomi Ichikawa, the team behind the international bestseller You Are My I Love You, pair up once again to bring you this instant classic.
Origin of the Story – In the Author's Words
All children are miracles; some more than others.  I suffered miscarriages and problems during pregnancy, so having children truly felt miraculous. Growing up in Bethlehem, Pennsylvania, the Christmas City, I was drawn to writing a Christmas book, and my editor Michael Green encouraged a sequel to You Are My I Love You.  The new life of a child is a miracle that we are privileged to be part of, and what better time to reflect on that wonder than Christmas?  The holidays can be stressful, especially in tough economic times; everywhere we are bombarded with the message that if we love our families we will buy them lots of stuff.  Yet how many times does a child have more fun playing with the box and wrapping than whatever came inside?  My happiest childhood Christmas memories are not of gifts but of simple time spent together, activities we share now with our children: reading stories, baking cookies, singing carols, decorating and making a mess.  Our garbage dumps show we are drowning in stuff. Yet the growth of the simplicity movement, and of Christian groups trying to return to the meaning of the season, show that there are also people who agree with Dr. Seuss that Christmas "doesn't come in a store.  Christmas, perhaps, means a little bit more."
Fun Activities:
Click here for some really fun and engaging activities related to this book.
Reader Reviews:
Check out what my readers have had to say about this book.
Literary Reviews:
Booksmith Bookstore
I would not be stuck on a desert island without the book You Are My Miracle by Maryann Cusimano Love and Satomi Ichikawa. This book comes as close as anything I have ever read to describing the great love between a parent and child. Its beauty is in its simplicity. I sell many copies to adults as gifts for their adult children as well as to parents of young children. I've yet to see a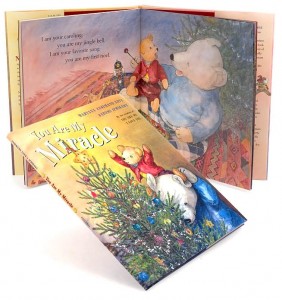 customer read it without sentimental tears. And I've yet to discuss its beauty without those same sentimental drops myself. Each of my four adult children has a personal copy inscribed with a handwritten love letter from both my husband and myself.
Tricia Lightweis, owner of Booksmith Bookstore in Seneca, South Carolina
Publishers Weekly
In a companion to You Are My I Love You, You Are My Miracle, by Maryann Cusimano Love, illus. by Satomi Ichikawa, sprinkles in some Yuletide touches as it captures the special bond shared between a parent and child. "I am your Santa Claus; you are my Christmas elf."
Copyright 2005 Reed Business Information.
Barnes & Noble
The team that gave us You Are My I Love You return with a sweetly winning holiday picture book: "I am your parent; / you are my child. / I am your quiet place. / you are my wild…..I am your gingerbread; / you are my frosting goo. / I am your paper; / you are my glitter and glue." Satomi Ichikawa's softly elegant animal paintings provide the perfect accompaniment to Maryann Cusimano Love's affectionate text.
Kirkus Reviews
The collaborators from You Are My I Love You (2001) reuse the initial verse from that volume ("I am your parent; you are my child. I am your quiet place; you are my wild") as the beginning words and poetic structure for another metaphorical exploration of the parent-child bond. This time the teddy-bear characters focus on winter and Christmas activities: baking, wrapping packages, decorating, singing carols and reading under the Christmas tree. The metaphorical structure takes a little getting used to and will need to be explained to some children, while others will immediately find this an amusing way of looking at things. The text needs to be accepted as delightfully nonsensical, and some may wince at lines that don't scan exactly, but the sentiments of tender love and care shine through in both text and illustrations. Ichikawa's watercolors are a delight, with the two nattily dressed bears accompanied throughout their activities by four smaller stuffed animals that join in all the activities. The world she creates for the bears and their friends is safe, warm and cozy-a wonderfully nurturing place to celebrate Christmas together. (Picture book. 3-6)