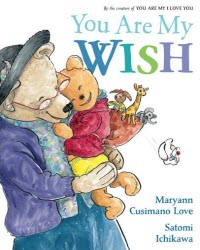 Since its publication in 2001, You Are My I Love You series has sold over a million copies worldwide and given voice to the unique love parents feel for their children. Now the creators of this modern classic reunite to honor the special bond between grandparent and grandchild, the one of passing along tradition, joyful spoiling, nurturing imagination, and pure adoration. Whether it's the sharing of stories or romping horsey rides, silly tickle fights or lazy fishing trips, there's truly nothing like it. With touching, heartfelt words and warm, playful illustrations, Maryann Cusimano Love and Satomi Ichikawa shine their spotlight on this unique relationship.  Chosen by independent bookstores as an Indie Next Children's Book selection.
Origin of the Story – In the Author's Words
When our first baby was born, my mother-in-law said something very wise, that each child comes into the world as their own unique person, and our jobs as grandparents and parents are to get to know who that person is, and then to help that child grow into the best person they can be. I was reflecting on this in church one Sunday morning, when the beginnings of You Are My Wish came tumbling out of my imagination. I'd heard from plenty of grandparents who loved You Are My I Love You, You Are My Miracle, and Sleep, Baby, Sleep, but wanted to know when I would write a book for them.  Grandparents today (aging baby boomers) are more active and involved in their grandchildren's lives than ever before, so I wanted to write a book celebrating the simple joys of spending time together, gardening, picnicking, reading stories, and sharing  naps.
Fun Activities:
Click here for some really fun and engaging activities related to this book
Reader Reviews:
Check out what my readers have had to say about this book
Literary Reviews:
Children's Literature
Every page of this dear tale of a grandmother bear and grandchild bear overflows with familial love and joy in both words and illustrations.  The language is lovely and lyrical, as metaphors poetically describe first the grandparent and then the grandchild.  Often the comparison is complementary, such as "I am your home-baked bread/ you are my grape jelly" or phrased in terms of contrast, such as "I am your wise face/ you are my new-tooth smile." As beautiful as the language is, the illustrations are equally charming.  Grandmother and grandchild sing to each other, the grandma bear gazing fondly at the open-mouthed, tune-belting child bear.  They stare expectantly together into the pond after throwing a penny in with a wish.  They snuggle under a tree for catnap as the grandmother says, "I am your good-night prayer/ you are my fast asleep."  A slow and sleepy ending makes this book suitable for bedtime reading.  Page after page celebrates intergenerational affection with warmth and beauty.  The story may prompt discussions with readers about time spent with grandparents and the ways children connect with older generations.  Reviewer:  Michele C. Hughes
School Library Journal
PreS-Gr3 — A loving bear lists for her grandchild all the things that make their relationship special, wisely observing how they complement one another:  "I am your grandparent;/ you are my grandchild./ I am you wise face;/ you are my new-tooth smile."  As the two go for a walk, have a picnic, and contentedly fall asleep under a tree, their bond is sweetly illustrated in warm, soft watercolors that beautifully depict their facial expressions and body language.  Four endearing small stuffed toys also come along on the outing and are fun to spot on each page as they follow the toddler bear and participate in everything.  This team has also produced You Are My I Love You (Philomel 2001), which has approximately the same type of format but with a parent and child.  This is a gentle love song for grandparents to share with their grandchildren.  Judith Constantinides, formerly at East Baton Rouge Parish Main Library, LA